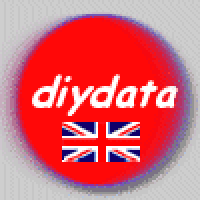 ---
---

DIYDATA BOOKSHOP
in association with amazon.co.uk
General DIY books
While we try to be comprehensive in what we cover on the diydata.com website, we don't (yet!!) cover everything, so here are a few books of further advice for you - or for presents for others.
Collins Complete DIY Manual
Collins Complete DIY Manual has sold over 3 million copies and is the most comprehensive and authoritative DIY manual ever produced. For novices, DIY enthusiasts or professionals, this essential book continues to be the most in-depth, up-to-date and user-friendly DIY book on the market, covering everything from decorating and repairs to electricity, plumbing and much more. This fully updated version features an even more accessible design to help you navigate easily through the info, and thousands of new photographs and illustrations to make sure you get your job done quickly and safely.
There have been many changes to regulations in recent years, particularly in electricity (the new Part P legislation and changes to cable colours) -- the Manual not only lists but also clearly explains these new regs and helps you work with them. And as we all become much more conscious of the environmental impact our homes have, new material on energy-saving DIY is essential reading for any householder -- saving you money too in the process.
Readers Digest DIY Manual
Packed with inspiring ideas and practical advice on tools and techniques, the "Reader's Digest DIY Manual" is an essential in every household. It contains invaluable advice for anyone fixing, extending, decorating, renovating or building their home. Whether you want to know how to repair a leak, wallpaper a stairwell or lay a patio, it's all here.
Each project is laid out with step-by-step instructions and clear photographs, drawings and diagrams. The completely up-to-date text reflects new legislation, including the latest wiring and glazing regulations. This updated edition also includes new material on energy-saving DIY, providing information on assessing and improving your home's energy efficiency rating, government grants available for energy-saving improvements, advice on choosing eco-friendly paints and flooring, installing solar panels and the latest energy and water-saving home appliances.
DIY (2nd edition): Know-how with show-how
New edition of the DIY manual you can't afford to be without – expert know-how with step-by-step show-how for success every time!
Whether you need to do a quick fix or a large DIY project, find out how to tackle any DIY task with confidence following this revised and updated step-by-step guide.
From fitting a shower cubicle to applying different painting techniques, the simple, clear, un-intimidating instructions ensure even hard jobs are made easy whatever your level of ability.
Every step is presented sequentially and photographically, breaking down each stage of a DIY job, from choosing tools to performing tasks to simple fixes for common problems. A helpful overview keeps you on track by showing you the entire sequence of events from start to finish. Plus, new eco-friendly options will help you DIY the green way.
Getting the Builders in: ..And Staying in Control
A clear, comprehensive guide to employing a contractor, covering conversions/extensions, double glazing, fitted kitchens and other household projects. Find expert advice on: selecting contractors and getting the right price; overseeing works and knowing when to intervene; legal matters, including planning permission and advice on contracts.
---
If you cannot find the book you want on these pages, use this search facility to locate what you want of ALL the products on Amazon.co.uk:
---