Hinges - different types explained
Hinges come in all shapes and sizes to suit a variety of different applications. We explain the most common types of hinges used around the house below.
When buying hinges, various approvals and terms are used, the common ones to note are:
BBA approved - the British Board of Agrément is the UK's major approval body for new construction products
BS EN 1935 standard applies to standard hardware
BS EN 1634 standard applies to fire resistance hinges - i.e. required for fire doors etc.
'Brassed' finish means that it has been coloured to look like brass, it's not solid brass so may rust.

Butt hinge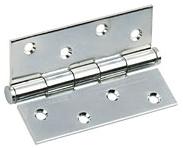 Butt hinges are probably the most common type of hinge found around the house to hinge two wooden parts. They are used on wooden internal and external doors, also on casement windows, various cupboards and other pieces of furniture.
The two halves need to be recessed into
Traditionally the two halves were held together by a shaft through the centre of the spine - some modern ones use an arrangement of ball bearing and these type are recommended for heavy doors.
Different finishes are available made from plain steel, brassed, brass, chrome, stainless steel and more.
Security butt hinge
Normally an insurance requirement for outward opening doors i.e. where the hinge pin is exposed externally.
Like ordinary butt hinges, they only suit wooden doors and need to be recessed into the surfaces.
If an ordinary butt hinge were used in this position, the hinge pin could be removed and the door released. With security butt hinges, the two halves of the hinge are lock together when the door is closed so removing the hinge pin won't allow access.
Rising butt hinge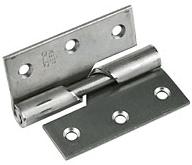 Rising butt hinges lift the door as it is opened, this means that there need not be a large gap under the door when it is closed.
Like butt hinges, they only suit wooden doors and need to be recessed into the surfaces.
They do have a tendency to automatically close the door when let go but are not a reliable means of doing so.
They are available as either clockwise (shown left) and anticlockwise types. Clockwise rising butt hinges are used where the hinges are on the right of the door and the door opens towards you. Anticlockwise when the hinges are on the left.
Usually the two parts separate so that, when open, the door can be lifted off.
Continuous Hinge

Sometimes referred to as 'Piano hinges' because of their original common use to secure the lid of pianos.
They are available in various lengths (1 metre is quite common) and can be cut down to the length required.
They can be used where any opening requires support along an extended length.
Flush hinge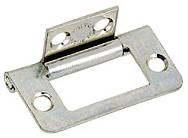 A lightweight hinge which has the advantage over a butt hinge that it fixed directly on to the surface without the need to cut a recess.
Usually used on cupboards.
Concealed hinge
Used to hinge cupboard doors so that they are not externally visible.
Most types require a large hole (typically 35mm dia) in the door for the body to fit into.
Tee hinge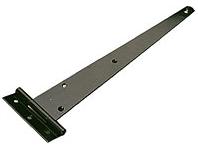 Tee hinges are generally used on timber sheds etc where the long arm is fitted to the door and the narrow part to the door jamb.
They offer little security as the fixing screws are exposed.
Double action hinge

Double action hinges are usually found in commercial premises where a door is required to swing both ways.
Friction hinge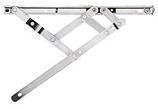 Friction hinges are used on uPVC double glazing windows where no catch for securing the window is required.
Different manufactures of double glazing use different styles of friction hinge so care need to be used if these are purchased as replacements - i.e. they may not suit you particular windows.
Also, manufactured windows will often have the hinge riveted to the frame and casement, this makes removing the old hinges a problem.