article supplied by locktrader.co.uk
Types of Door Locks
Door locks are available in many different shapes and styles to suite a wide range of door materials and security requirements.
Mortice Locks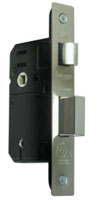 A lock that is fitted into the edge of a door is known as a mortice lock, with only the forend visible, these are fitted into a pocket cut into the edge known as the mortice.  Mortice locks are available in deadlock and sashlock variants, both use a deadbolt to lock with the sashlocks (shown right) also having a latch bolt to hold the door in the closed position.  The deadbolt is then thrown into the keep in the frame via a turn of a key to lock the door, the latch bolt is operated by a pair of lever handles or knobs on the sides of the door. 
Other popular mortice locks include horizontal locks with both dead and latch bolts. These have a much deeper case size, allowing for keyhole and knob turn to be horizontal to each other, often found on older style doors. 
Mortice locks can be supplied keyed alike with the same key operating 2 or more locks.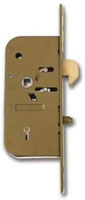 Other types of mortice locks include sliding door locks (shown right) and bathroom locks. 
Standard mortice locks are ineffective when fitted to sliding doors, instead a lock is required with either a hook or claw bolt.  When locked the bolt engages with keep to secure door in place. 
Bathroom locks use a standard locking bolt that is operated by a simple turn from inside, bathroom turns often include an 'engaged' indicator and emergency release on the outside.
Rim Locks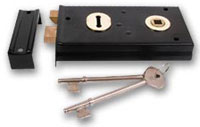 Locks that are fitted to the side of a door are known as rim locks. These were the first types of locks invented and therefore have many styles, shapes, colours and security levels.  Rim Locks are split into 3 main categories, Nightlatches, Rim Deadlocks and Rim Sashlocks (shown right).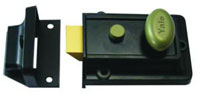 Nightlatch locks use a large latch bolt to lock door, the bolt is automatically engaged with the locks keep, located on door frame, when the door is closed.  Nightlatches are available in many styles to suite door and security requirements.  A simple nightlatch (showen right) is the most basic type of nightlatch,  when the door is closed the bolt engages with the lock keep, the lock can then be operated by key from outside or a knob from inside to release the bolt and open the door.  A snib (a small sliding catch) is located on the lock case, this can be used to deadlock the bolt in the locked or unlocked position.
Deadlocking nightlatches operate in a very similar method but with the addition of the deadlocking feature via a key from the outside, thus allowing the door to be deadlocked whilst away from the premises. 
Auto deadlocking nightlatches offer a third locking option, an extra deadlocking pin is located just above or below the main bolt, when the door is closed, this pin is depressed into the lock case automatically deadlocking the bolt.
Other types of nightlatch include Deadbolts and Rollerbolts, both of which operate in a similar method. 
Nightlatch deadbolts use a solid bolt to lock, this is withdrawn by a key from outside or a handle from inside, some nightlatch deadbolts also include a latching system, this holds the deadbolt in the withdrawn position until the door is closed again.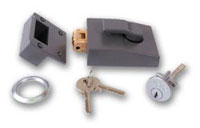 Nightlatch rollerbolts (shown right) use a spring loaded deadbolt with a roller on the leading edge of bolt, which allows a door to be held in the closed position without locking, the door can then be opened with a simple push or pull and locked by extending the bolt into the keep with a key from outside or handle from inside.  Roller bolt nightlatches are commonly found on private flat entrance doors, allowing a resident to walk out of their flat without the risk of the door closing and locking them out.
Similar to mortice locks, rim locks are also available in simple dead and sashlock variants.  This type of lock is considered of low security, only suitable for internal use, and often found on period style doors. 
British Standard locks should be used on all external doors, look out for locks with the BS3621:2007 certification.