This article was submitted by wooden-beds.com
Solving the problems of an irregularly sized bedroom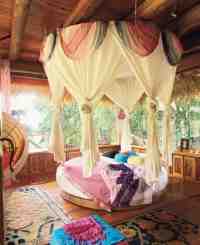 It can be extremely easy to view a certain room in your home as a problem area, especially if it happens to be a much-needed bedroom. Whether it is too small, making it uninviting and poky, or oversized so that it feels cold, unwelcoming and overwhelming to decorate, an irregular bedroom can certainly pose a challenge.
However, there are solutions out there that will soon have you viewing the room in a whole new light, and enjoying the perks of a much more habitable space in your home.
In a very small room, you can take one of two routes. The first is to embrace its petiteness and create a cosy cave that is essentially one big sleeping room! A huge super king size bed can fill out the whole floor space and, when decorated with sumptuous cushions, supersoft throws and beautiful bedding, will become an undisturbed haven of rest and relaxation. Since this room will provide for little other activity than sleeping, make the most of its function by installing a blackout blind or some thick luxurious curtains.
On the other hand, you could go for visual trickery. Select a single bed and a few pieces of furniture on a very small scale to give the illusion of a regularly sized and equipped bedroom. Mirrors can further deceive the eye, and small patterns on the walls in very pale colours can make the room seem larger in contrast.
If your home décor ventures have been stilted by an intimidatingly huge bedroom, here are some tips to help. Use bright, warm colours to counteract any coldness caused by the room's spacious proportions. Large patterns on walls and carpets are good at making a room seem smaller, but choose wisely as they can date quickly. See some stylish ideas of large patterned wallpaper.
Once again, a large bed is a great choice, as it'll take up maximum floor space. Choose an imposing design to really steal the show away from the open space. A wooden sleigh bed would be perfect, while a deep mahogany style will work beautifully as its dark colour will draw the eye. To make the bed even more of a feature, and to break up the emptiness of the bedroom, you could hang thin voile curtains around the bed, giving the effect of a four poster but in an even more stylish manner. Take inspiration from the stunning image above.