Types of domestic gas boiler systems
Owing to modern heating regulations, all gas boilers bought today have to be condensing boilers. These come in three formats: conventional, combination and system type.
Note: current UK proposals will not allow new installations of fossil-fuel gas boilers from 2025; replacement of existing gas boilers are expected to be allowed upto 2035; by 2050 all gas boiler are expected to have been replaced. One alternative which is being heavily promoted is electric Air Source Heat Pumps.
Condensing boilers are so-named because they use a water condensing system to recover otherwise wasted heat from the flue gases. The boilers fitted to older central heating systems (i.e. not a condensing type) have a simple heat-exchange system, which can be as low as 70% fuel efficient.
A modern condensing boiler maximises fuel efficiency by extracting heat from the latent (waste) flue gases by means of a condensing system. This pre-heats incoming water from the radiators, reducing the fuel needed and producing a boiler that's up to 90% efficient. The condensate water drains away via an outside pipe, which is the way you tell a condensing boiler apart. Older boilers don't have these pipes.
Choosing a condensing boiler
The type of boiler chosen will depend on several factors, such as the central heating system already installed, type of property etc.
Of the three types, combination ("combi") boilers are easiest to install, and the most space-saving as they don't require either hot or cold storage tanks. This has made them a highly popular choice for households wanting to free up space in their lofts. Combi boilers are widely stocked by DIY chains such as Wickes. As with any gas appliance, a condensing boiler can only be installed by a 'Gas Safe' registered fitter.
Conventional boilers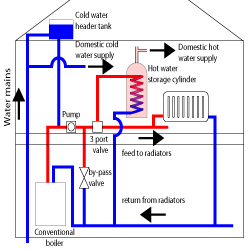 Slowly being eclipsed by the other types, these are the "header in the loft" type boilers. The entire system is fed by two open header tanks in the loft. For central heating, a pump outside the boiler is used to pump water to the radiators. The domestic hot water, meanwhile, is stored in a cylinder tank. This system has several drawbacks, including low water pressure at the taps nearest to the tank. Overall, it is the most costly and complicated of the three systems to install.
Combi boilers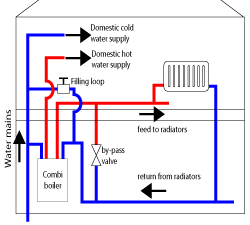 Combination (aka 'Combi') boilers are widely considered to be the easiest and most cost effective way to install central heating, these are the boilers most likely to be found at domestic outlets like Wickes. Combination boilers have no tanks at all. Instead, they heat water for central heating and domestic hot water as required.
The central heating portion of a combi is on a pressurised closed loop system, heated by the boiler as required. For domestic hot water the mains supply is fed direct to the boiler. This means no hot tank to refill, and a constant supply of hot water at mains pressure. The downside is that if more than one tap is open, the water pressure can fall. High capacity combination boilers overcome this problem.
Although combination boilers are not suitable for all households, they are often the first choice.
However, as the system does not use a storage tank, they cannot easily be used with a heat-pump should the combi need to be replaced by one in future to reduce the use of fossil fuels.
System boilers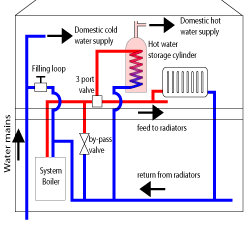 A system boiler still has a hot water tank, but has done away with an exterior pump and header tanks. The pump is an integral part of the boiler, which also has an expansion vessel to replace the cold tanks. Other integral components include a system programmer and valves.
System boilers are far easier to install than conventional heating systems, but have the disadvantage of being complex and therefore costly.
---
This article was contributed by Wickes