Fitting taps to baths, hand basins or sinks
This page applies to taps with ½ and ¾ inch connection tails (including 2 hole mixer taps) - see our other page for Mono block (single hole) mixer taps with 10mm connections.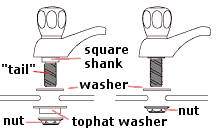 Fixing taps to baths, hand basins or sinks is straight forward, it is often simpler to fit the taps before installing the unit as access to the backnut will be easier.
One thing to be aware of is that some taps either have a square shank under the mounting face (see left figure to the right) or the thread on the tail does not go right up to the mounting surface - either of these features can cause the backnut to tighten onto the tap body before it tightens against the unit.

In these cases, a 'tophat' washer (see below, right) needs to be fitted under the backnut to ensure that the tap is tightened against the unit.
It is also a good idea to use tophat, or large plain, washers under fibreglass baths and composite sinks as their use prevent the backnut cutting into the surface.
Most new taps are supplied with all the washers and nuts required to fit them - but without any 'tophat' washers.
Put the washer supplied over the 'tail' of the tap, against the under-surface of the tap.
Insert the tap through the hole in the mounting surface.
In needed, put the tophat washer over the tail and make sure that it lines up with any shank or projection on the underside of the tap.

Screw the backnut up the tail and tighten to hand tight against the unit/tophat washer.
Make sure that the spout of the tap is correctly positioned and use a spanner (or stilsons) to tighten the backnut by just under one full turn - do not overtighen. On some units it may be necessary to use a tap spanner to get a grip on the backnut.