Construction of Timber Gates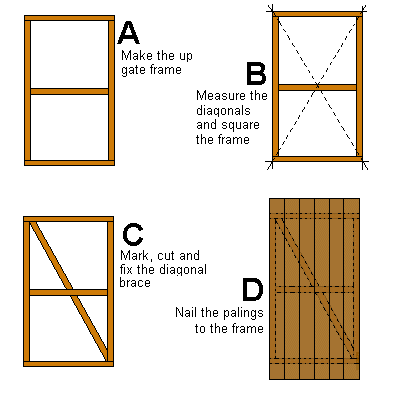 Making the gate
Measure between the two gate posts and deduct 25mm (1"). This is to allow 12mm (1/2") clearance each side of the gate.
On even ground, make a rectangular frame 875mm (35") wide and 1500mm (5ft) long (That is 25mm (1") narrower than the distance between the gate posts and 300mm (1ft) less than the required gate height). Mark and cut a piece of timber and fix in place centrally between the frame members.
Measure the two opposing diagonals of the gate frame. Adjust the frame until the two opposing diagonal measurements are the same, then the corners of the rectangle will be at right angles. (In other words, the frame will be square and not be skew-whiff).
Brace the gate frame
Nail the 150x25 (1x6) fence palings to the frame using 60mm (2 1/2") flat head galvanised nails. The palings will be flush with the sides of the frame.