Tools for Tiling
Tile Scribe - Tile Cutter - Tile Power Saw - Tile Nippers - Tile Hand Saw - Tile Drill - Hole Cutter - Tile File - Profile Gauge - Notched spreader - Tile Trowel - Grouting Spreader - Grout Rake - Tile Removing Chisel
Like all tools, tools for tiling can be expensive but can make the job a whole lot easier. If you are only an occasional tiler, it may pay to hire specific tools for just when you want to use them.
Tile Scribe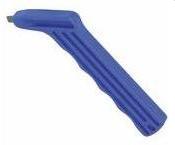 Normally with a hard, Tungsten Carbide Tip, a tile scribe is used to score the glazed surface of tiles so that they can be broken along the scribe line.
A Scribe needs to be used against a straight edge to ensure that the scribe mark is straight.
Tile Cutter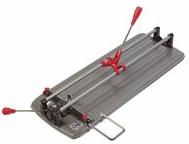 A tile cutter makes life easier especially when cutting large numbers of tiles in straight lines. Various designs are available but the usual type incorporates a 'scribe wheel', which is pulled across the tile, and a breaking arm, which is pushed down after scribing to break the tile along the mark. Once you get the hang of using a tile cutter, cutting tiles is quicker and more reliable than using a tile scribe.
When buying a Tile Cutter, make sure that it is large enough to take the largest tile being used and that spare 'scribe wheels' are available so that these can be replaced when they become worn.
Tile Power Saw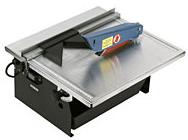 A Tile Power Saw is another way to cut tiles in straight lines and is really essential when cutting large numbers of tiles and/or thick, tough tiles (such as floor tiles). They have an inbuilt water tank/tray so that water is pumped to the cutting area (to cool the cutting blade) - this does mean that they can be rather messy.
A diy'er may not be able to justify the purchase price for an occasional tile job but these saws can usually be hired when necessary.
When selecting a Tile Power Saw:
Check:

The wattage of the motor, generally the higher the better - it should be more powerful and handle tougher tiles better.
The size of the table, it really needs to be large enough to support the complete tile both sides of the cutting edge.
If the table is tiltable - this will sometimes be found useful.

Be aware that they are available for different voltages, normally 110 or 230v AC. If buying a 110v AC Tile Saw, a step-down transformer will be required to use the saw from the domestic UK mains.

It should have:

A adjustable guide fence.
A Blade Guard
A Waterproof Switch
Overload Protection
A water tank for cooling the blade as it cuts.
A Diamond Blade
A tile cutting power saw blade should never be used to cut anything other than the specified types of tiles - you run the risk of damaging the expensive blade.
Tile Nippers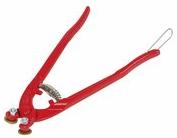 Hand held tools which are used to cut away small, often irregular, areas of tile in a controlled manner.
Tile Hand Saw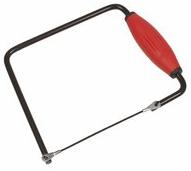 A tile saw is needed to cut irregular shapes etc faster than just using nippers. They generally looks a bit like a hacksaw, with a frame holding the ends of a special tile cutting blade. The distance from the blade to the back of the frame needs to be large enough to accommodate a tile being cut. The special tile cutting blade is normally round in section with cutting edges on all sides.
When using a tile saw, always work from the glazed side of the tiles and make the cut on the down stroke.
Tile Drill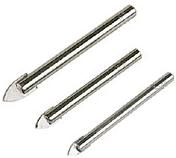 Special Carbide-tipped bits are required for drilling glass, tile and mirrors.
They can be used with a hand drill, but are best used in a variable speed power drill on a slow speed. When drilling glass, some form of lubricant (i.e. turpentine or white spirit) should be used to keep the tip cool - form an 'O' ring from putty around the required hole position and fill it with the lubricant so that the tip of the bit is always lubricated.
Ceramic tiles can also be drilled using a masonry bit if it is used at slow speed and without hammer action.
Tile Hole Cutter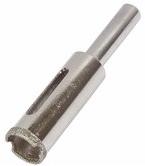 An alternative to Tile Drills, Tile Hole Cutters have a diamond cutting edge which meets the tile surface square on. These hole cutters can range in size from 12 to over 100mm diameter and should be used in a power drill and leave a smooth and clean finish. The cutters normally need to be lubricated with water to prevent premature wear.
As the cutter does not have a locating point, it can be difficult to hold the cutter in position on the tile face to get the hole started - it does help if the cutter is used in a drill stand or the tile can be secured.
Tile File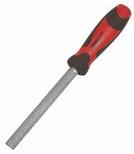 A Tile File is used to smooth rough edges and shape tiles. When shaping tiles, files should only be used to remove small amounts as they work very slowly.
Ideally the file should have both a flat and curved face so that it can be used for filing both straight edges and contoured shapes.
Profile Gauge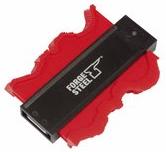 A profile gauge helps to transfer awkward shapes on to tiles for cutting.
Their use is not restricted to tiling and they can be useful when woodworking etc.
Notched spreader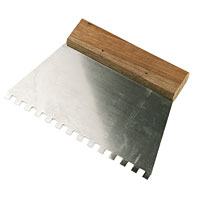 Usually tile adhesive will come with a simple plastic spreader for the adhesive being used and for small tiling jobs this should be sufficient for spreading the tile adhesive over a wall or floor prior to positioning the tiles.
However, spreaders with steel blades can be purchased which will last a lifetime.
Different shapes and sizes of notches are used for different type of tiles and/or location. Notched spreaders often have at least two sets of profiles on the edges, 'V' and square - the 'V' notches are for 'light/ordinary duty areas' while the square notch is for 'heavy duty areas'. Tiling with the 'V' notch gives a lower percentage area coverage of the back of the tiles than the square notch - high percentage area coverage is important in areas, such as showers, where the tiles may be subjected to large water contact and also floors where the adhesive needs to support the whole area of the tiles.
Tile Trowel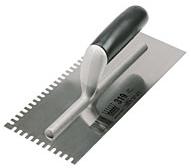 A tile trowel applies adhesive in a similar manner to a Notched Spreader (above) but is easier to use when large amounts of tiling are to be done.
Grouting Spreader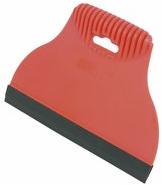 A grout spreader is used to spread the grout across the tiles and into the spaces between them.
It has a flexible, squeegee edge to move the grout around without damaging the surface of the tiles. The squeegee edge can become worn and ragged with use (the grout can be abrasive), and it will need replacement to ensure a good finish to the grouting.
Grout Rake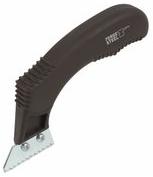 A special tool with a narrow hardened blade used for removing old and discoloured grout. Working the blade along the grout joints will remove the old grout and leave room for applying new grout.
Tile Removing Chisel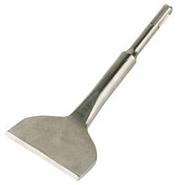 This is definitely a tool to be hired by the diy'er - together with the associated power tool.
A cranked blade will allow easy and quick removal of tiles with minimal damage to the backing wall or floor. It can also be used to remove plaster.