Loft Conversions - staircase requirements
Building Regulations Part K (Protection from falling, collision and impact) covers the design of staircases, including those for loft conversions.
This article looks at how these regulations and other design issues apply to staircases in domestic loft conversions.
The design requirements for loft staircases are the same as with other staircases although certain alternative options do apply where lack of space make it impossible for these to be achieved in a loft conversion.
However, interpretation of the regulations may vary between local Building Control Offices so any intended use of such alternatives should be discussed with the local office before any work is undertaken.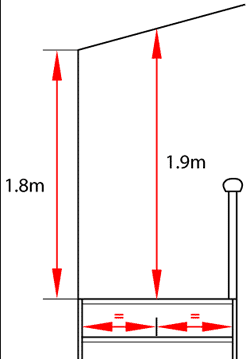 Where in a loft conversion, the 2m headroom required on a landing is not achievable, it is acceptable for reduced headroom of 1.8m minimum at the lowest and 1.9m minimum on the centre line of the stairs - as shown right.
class="clearfloats"> Where space is limit, 'alternate tread' stairs are an option where the access is to one habitable room and, possibly, a bathroom and/or WC (providing it is not the only WC in the dwelling). An 'alternate tread' stair is illustrated below, space is saved by the pitch angle being greater than 42°.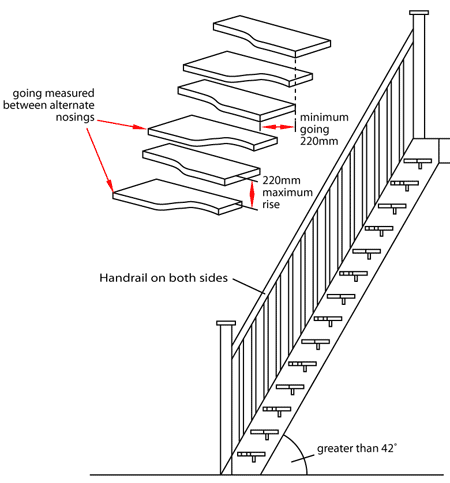 As can be seen, the depth of the treads are not uniform across the width but are reduced from about the middle point.
Alternate treads steps must be uniform with parallel nosings.
Each tread must have a slip-resistant surface.
The treads must be between 220 and 300mm over the wider part of the tread.
There must be handrails on both sides.
There must be at least 2m head clearance.
Although Building regulations so not specify a width for Alternate Step staircases, they are often narrower than conventional ones.