Plumbing copper pipe and connectors
Modern plumbing tend to use copper or plastic pipes for water feeds and central heating pipework.
Older systems used iron pipes and in even older houses, lead can be found in the cold water supply and for the waste pipes.
Pipes
Copper has a number of advantages over the iron and lead types:
Copper is relatively non-toxic - unlike lead.
Copper does not suffer corrosion - as iron does.
Copper is relatively soft and easy to work with - unlike both iron and lead.
Copper pipe is available in a number of sizes commonly:
8 and 10 mm - for use microbore central heating systems
12 and 15 mm - generally for connections to individual taps, appliances etc.
22, 28 and 35 mm - generally for long runs where use of 15 mm piping would cause excessive pressure drop.
Copper pipe is normally available in various lengths depending upon the type of stockist. Trade outlets may only stock 3 and 4 metre lengths whist small DIY outlets may hold sizes ranging from 1.5 to 2 metre.
'Old' imperial pipework
Copper pipework in older installations will probably be sized in imperial measurements - 1/2 inch, 3/4 inch, 1 inch etc. One point to bear in mind in the UK is that the measurement quoted for imperial sized pipe is the INNER diameter of the pipe whilst the measurement for metric pipes is the OUTER diameter - this means that the 1/2 inch pipe is very nearly identical to the 15 mm metric pipe. In fact these two sizes (1/2 inch and 15mm) can generally be joined using a 15 mm to 15mm connector.
The other imperial sizes do not have 'workable' equivalents metric sizes - joining these imperial to metric sized pipes require the use of adaptors specifically designed for the job (3/4 inch to 22mm, 1 inch to 28mm) - these adaptors are no more expensive than metric to metric connectors, they are just designed for the job. It does seem, however, that these adaptors are becoming less available; it's hard to find them on-line or at the major DIY stores, going to a 'proper' plumbers merchant probably gives the best chance for locating one.
Connectors
Connectors are specific to the size of pipe being used, a number of differing styles are available which cater for almost all needs of a pipe run. The main styles are:
Straight connector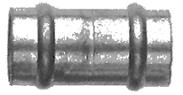 90 degree bend

'T' connector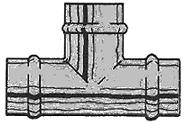 Most of these are available either to accept the same sized pipes at each end or to accept different sizes, this allows a change in pipe size to be achieved simply. Connectors are also available to connect modern metric sized pipes to imperial sized copper pipe or external screw threads such as used on iron pipes and accessories (such as sink taps etc.).
Two basic types of connectors are used for joining copper pipes:
1. Compression Connections
Compression connectors use an internal ring (known as an olive) which is compressed onto the pipe as the end nut is tightened onto the body of the connector.

Compression connectors can be dismantled and reassembled fairly easily. Alternatively, if a pipe run is to be rearranged, the end of the pipe can be cut to allow the end nut to be removed, and then the connector can be reused with a new olive (olives can be purchased in small quantities).

2. Solder Connections
Solder connectors are sized to be a tight slide fit onto the copper pipe, the joint is then heated (normally by using a blowtorch or hot air gun) and the small gap between the pipe and connector is filled with solder by capillary action.

Some connectors incorporate a solder ring within the body (as indicated by the ring formed in the connector as shown above) while other connectors are plain copper and solder needs to be fed around the exposed gap after the connector/pipes has been heated.

Solder connectors are cheaper than the compression type but they are not reusable. With solder connectors it is very easy to get a water tight joint at the first attempt, but if they should leak, they can sometimes be problematic (but not impossible) to repair as they cannot be disassembled.

---