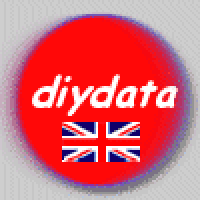 ---
---
home
» solar energy books

DIYDATA BOOKSHOP
in association with amazon.co.uk
Solar Energy and Wind Power books
While we try to be comprehensive in what we cover on the diydata.com website, we don't (yet!!) cover everything, so here are a few books of further advice for you.
---
Do It Yourself 12 Volt Solar Power: A Do It Yourself Guide: 1 (Simple Living)
Michel Daniek is one of those people who makes you think that however much you care, and however much effort you make to do your bit for a better world, there's always that extra mile to go. Michel goes that extra mile, but he has the great gift of making it lively and fun. Both the man and this book are a real inspiration.
This book is unique. As far as I know no-one else has collected together a full range of the techniques you can use to live happily off the grid with solar electricity. At present it is mostly relevant to travellers and people living beyond the reach of the mains, but the day when it becomes important for all of us may be nearer than we think.
The Passive Solar House
For the past ten years, "The Passive Solar House" has offered proven techniques for building homes that heat and cool themselves, using readily available materials and methods familiar to all building contractors and many do-it-yourself homeowners. True to this innovative, straightforward approach, the new edition of this best-selling guide includes CSOL passive solar design software, making it easier than ever to heat your home with the power of the sun. Since "The Passive Solar House" was first published, passive solar construction expert James Kachadorian has perfected user-friendly, PC-compatible software to help readers analyse the efficiency of their passive solar house designs and the solar potential of their current homes or building sites.
This is the building book for a world of climbing energy costs.
The Solar House: Passive Heating and Cooling
This text presents a relatively non-technical description of passive solar heating and cooling principles that can be used in the construction of homes heated and cooled simply through the absorption or dissipation of sunlight.
Windpower Workshop
This fully revised edition of Wind Power Workshop - the first for ten years - includes Hugh's updated thoughts about wind turbine construction, thirty new illustrations (on top of the seventy that appeared in the previous edition) and an expanded and vastly superior layout. The book shows you how to construct aerodynamic efficient wind turbine blades using wood, match and connect the blades to a generator, build mechanical controls to direct and ensure the safety and efficiency of the blades and erect the turbine safely using a guyed tower.
Wind Power Workshop helps you understand wind turbine technology without assuming prior knowledge but does assume you have a technical background - either in engineering or electronics. Those without a technical background will need a physics book handy to help them understand terms such as force and turning moments. It also covers generator science, magnets, batteries; as well as supplying you with all the equations you need to correctly size a turbine of your own design. There is a chapter about safety to ensure that readers understand the many risks involved in wind turbine construction. Hugh teaches wind power courses all over the world and his experiences as a teacher inform his work.
The focus of the book - and all Hugh's work - is to empower the reader to take control of their energy needs by describing how energy is created and then showing how to build the machines to make it themselves.
---
If you cannot find the book you want on these pages, use this search facility to locate what you want of ALL the products on Amazon.co.uk:
---
---