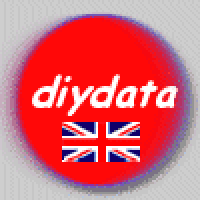 ---

DIYDATA BOOKSHOP
in association with amazon.co.uk
DIY DVD guides
Please note that as well as purchasing these DVDs, they are also available for hire.
---
How To DIY - Guide To Plastering
Watch and learn how to expertly plaster walls and ceilings withouth previous experience. Includes measuring out, cutting and fixing plaster board to walls and ceilings, taping joints, cutting and fixing angle beads around windows and reveals, preparing surfaces, using bonding and finishing plaster for a flat finish, mixing materials, skimming walls and ceilings and more.
The How To DIY Guide To Basic Plumbing
This tutorial is designed to give you a good understanding in all areas of plumbing whether you are a total novice or experienced in the basics of plumbing. Instruction includes: Preparing and bending copper pipes; joining methods and soldering; traps and wastage; fitting a full bathroom including bath, WC and basin; general maintenance.
Beginners Guide to DIY
This practical and easy-to-follow film is designed to teach the basic skills needed to get pleasure from working on your own home. With an emphasis on simplicity and safety, the viewer will receive friendly advice on all the common do-it-yourself tasks including wiring a plug, hanging wallpaper, putting up a shelf, and much more.
How To DIY Guide To Tiling
A tutorial designed to give the viewer a good understanding in all areas of tiling. Rick Bacon shows you how to: measure out your work area, use all the tools required, cut around windows and reveals, and tile around obstacles. He also shows you the correct techniques for wall and floor tiling to achieve a professional high quality finish.
The How To DIY Guide To Advanced Plumbing
Informative guide to general DIY plumbing. Looks at how cylinders work, how and where to run pipes, different components, fitting and removal of radiators and replacing valves.
---
---