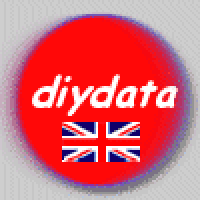 ---
---

DIYDATA BOOKSHOP
in association with amazon.co.uk
Self Build books
While we try to be comprehensive in what we cover on the diydata.com website, we don't (yet!!) cover everything, so here are a few books of further advice for you - or for presents for others.
PLEASE be aware that Amazon.co.uk offer a wide range of Self Build books HOWEVER, a number are US orientated and not suitable for UK self build - we've tried to identify 'UK relevant' books, but advise you to check the reviews etc for particular books before ordering.
---
Building Your Own Home
Hundreds of thousands of us renovate, convert, extend and improve our homes each year, and one-third of all new detached homes are self-built. If you're looking to build your own property from scratch, or work on your existing home, this is the one and the only book that you really need. "Building Your Own Home" has now been fully updated and expanded by David Snell, acknowledged expert and guru in the field of self-build, and it remains the best book on the subject.
Packed with authoritative advice, charts, diagrams and photographs, this fully illustrated bible contains everything you need to know, from finding and buying a plot of land to explaining planning and building regulations, financing the project, buying materials and choosing the design. In addition, it also gives an insight into the costs and problems encountered by recent self-builders in a varied collection of new case histories.
The Pocket Guide to Building Your Own Home
Everything you need to know about building your own home - in practical handbook format.
Covering everything from budgeting and finance, to evaluating the land and dealing with suppliers this comprehensive guide takes you through the basics to ensure that you are well-equipped to deal with any challenges or problems that may arise.
Fully up-to-date and packed with authoritative advice, this practical handbook is essential reading for everyone from those building their own home, to anyone planning some home improvements.
The Housebuilder's Bible
12th Edition
Whether you're a first-time selfbuilder or seasoned professional, this book tells you how to succeed at housebuilding. It explains everything you need to know about managing a build, buying and using materials, finding and employing the right people - and doing it all without the pitfalls. Previous editions have won huge praise. 'It contains all the things the trade know and take for granted, but that non-trade wouldn't know,' said one reader. Another wrote: 'This is a fantastic book for anyone who wants to understand the options when building or improving a property.' Written in a highly readable style this twelfth edition is fully updated and comes complete with tables for costing your building project.
The New Home Plans Book
A fully revised and updated edition of the self-builders' ultimate design sourcebook. All aspiring builders have their own ideas when it comes to designing their dream home. This book offers the key to realising your dreams. Packed with advice, information and over 350 breathtaking and innovative plans, this fully revised and updated version of The Home Plans Book will help you to incorporate your own ideas to create a perfect home. Taken from a wide cross-section of the major companies within the self-build industry, The New Home Plans Book gathers together all the very best plans and divides them into fourteen main categories for easy reference. Above all, this book is a great source of ideas, so whether you are considering building a cottage or a bungalow, a house with a granny flat or a mansion on a sloping site, The New Home Plans Book seeks to guide you through the choices and help you to select the right plan for your lifestyle and site.
Self-Build Manual: How to plan, manage and build the home of your dreams ]
Most of us would love to design and build our own home. In fact, more people than ever are doing precisely this. But how exactly do you go about it? How much of the building work should you do yourself? This manual explains the entire process in plain English, backed up with hundreds of colour photos showing real self-build projects taking shape. Each chapter is devoted to a key stage of the build from the foundations right through to snagging and completion. Whether you tackle some of the works yourself, or employ architects and contractors, this step-by-step guide will show you how to stay firmly in control, get to grips with the latest planning and building regulations, and complete your project on time and within budget.
How to Get Planning Permission
This is a brand new edition of the best selling book on Planning Consent. Used by the public & professional alike this 5th Edition is fully updated & completely re-designed.
---
If you cannot find the book you want on these pages, use this search facility to locate what you want of ALL the products on Amazon.co.uk:
---