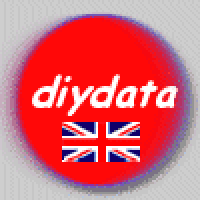 ---

DIYDATA BOOKSHOP
in association with amazon.co.uk
Decorating books
While we try to be comprehensive in what we cover on the diydata.com website, we don't (yet!!) cover everything, so here are a few books of further advice for you - or for presents for others.
---
Home Decorating for Dummies (General Trade)
Home Decorating For Dummies, 2nd Edition is for all kinds of people in all kinds of decorating situations, including:
First–time buyers or renters. You have a whole new place to decorate. Where do you start?
Second– or third–time home buyers. Whether you've gone up or down in size, stayed in the same region or moved to a whole new one, you need to know how to make your old furniture work in a new setting, how to add furnishings, and how to make your style seem fresh.
Newly blended families. He has furniture, she has furniture, they have furniture. Can it all work together harmoniously? Indeed!
And anyone else who loves decorating. Don't forget: Imagination counts.
Each part of Home Decorating For Dummies, deals with a broad area of decorating, and each chapter contains specific and detailed information. You′ll discover tips on
Basic planning – where to begin when you want to start decorating
Creating surface interest – the effects of color, pattern, and texture, and the problems created by too much or too little of them
Creating backgrounds – what you need to know about the special decorating requirements of your walls
Tackling tough rooms – how to effectively decorate rooms that have special functional requirements
Accessorizing with art and other stuff – adding the final flourishes to every space in your place
Home Decorating For Dummies, 2nd Edition contains all the basics – including how to figure out what you can spend; how to spend it; and the latest and greatest in styles, trends, and technology. What do you do with your space next? The possibilities are endless.
Painting and Decorating
This textbook presents a series of concise, simply written and well illustrated technical information sheets, providing essential job knowledge and understanding for the painter and decorator. It gives thorough coverage of materials and equipment both decorative and industrial currently in use, and gives useful guidance on specification. Throughout, considerable emphasis is placed on safety precautions.
The sixth edition has been extensively revised to include new developments in tools, equipment and materials, particularly with regard to spray painting technology and the move to low VOC paints. The chapters on scaffolding and health and safety have also been thoroughly updated to ensure they reflect current regulations and best practice.
provides essential job knowledge for NVQ Levels 2 and 3 students of painting and decorating
full colour edition of this highly successful text, first published in 1975
thoroughly revised to cover new developments in tools, equipment, materials, scaffolding, and health and safety
completely new colour illustrations with information presented in simple, structured information sheets
also of interest to the professional needing specialist up–to–date information
Painting and Decorating
Assuming no prior experience of the trade, Roy Hughes details the underpinning knowledge of the materials, tools and techniques required for successful painting and decorating, and provides step-by-step guidance towards developing the essential skills required for anyone wishing to embark on a career in decorative occupations.
The reader is guided through each of the key areas and processes in the field, with additional emphasis placed on Health & Safety. Written by the author of the CITB/City & Guilds Level 2 Technical Certificate, the book fully covers the syllabus requirements for the Intermediate Construction Award (painting and decorating route) and the Decorative Occupations NVQ at Level 2.
Readers will find the topic Colour in Decoration - a critical aspect of actual painting and decorating practice - is also addressed, making this essential reading for Modern Apprentices in the trade, as well as serving as a useful reference for qualified painters and decorators.
The book is designed to maximise accessibility of the text for the reader. Activities, key points, and 'test our knowledge' questions (for use during college/centre training), feature throughout the text to allow application of theory into practical contexts. An additional answer section at the back of the book aids self-assessment, enabling the reader to revise all key concepts that have been introduced.
Home Decorating Manual
This comprehensive, fully illustrated book, written by a team of specialists, shows you exactly how to tackle a variety of home decorating tasks. Whether you are painting, wallpapering or tiling, it guides you step-by-step through every stage in the process, from initial preparation to the finishing touches, helping to ensure attractive and long-lasting results.
Tiling (For Pros, by Pros)
This book gives you the technical expertise and seasoned advice you must have to expertly plan, lay out and install tiles throughout your house.
From simple to elaborate, easy to complex and challenging, the editors of "Fine Homebuilding" magazine cover a huge range of tiling projects, techniques and issues, and give you the technical help and design inspiration you need to plan and execute a range of tiling projects like: tile a shower with marble; install a leakproof shower pan; install glass tiles; tile a bathroom floor; cut and grout ceramic tiles; tile a kitchen counter and backsplash; and tile over a laminate counter.
"For Pros, By Pros" series: written by professional builders who actually do the work, then offer the very best design and construction advice plus building site-proven tips and techniques. "Professional Building Guides": these are the very best books in Taunton's highly successful home-building backlist, completely revised and updated, redesigned and now illustrated in full colour. "Fine Homebuilding" is the leading international journal for home builders.
Ceramic and Stone Tiling: A Complete Guide
Some tiling books adopt a hypothetical stance to the subject. This book rejects this approach and demonstrates how a do-it-yourself enthusiast can carry out a tiling job to a high standard in situations that exist in the real world.
Covers all the basic processes from designing the job through to the final grouting and cleaning down. Procedures, that are of vital importance, such as setting-out, are covered in considerable detail. The reader is told what can go wrong and given advice. Attention is also paid to tiling with terracotta, marble, slate and granite, that involve slightly different techniques compared to ceramic tiling. Presents highlighted, useful 'tips' throughout the text
Well-illustrated with detailed, step-by-step colour photographs and diagrams.
---