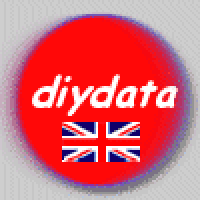 ---

DIYDATA BOOKSHOP
in association with amazon.co.uk
Gardening books
While we try to be comprehensive in what we cover on the diydata.com website, we don't (yet!!) cover everything, so here are a few books of further advice for you - or for presents for others.
---
RHS Pests & Diseases: New Edition, Plant-by-plant Advice, Keep Your Produce and Plants Healthy
Have you got a plant with a problem and don't know how to fix it? This unrivalled practical reference is all you need to nurse it back to health.
Drawing on the expertise and authority of the RHS, RHS Pests and Diseases has been carefully conceived to help you make a correct diagnosis and find the most effective cure. This brand new edition includes helpful new entries detailing how to cope with the latest prevalent problems, and how to adhere to current best practice and new legislation on chemical control. Look up possible ailments in the plant-by-plant listings; make a visual identification from the extensive gallery of symptoms; then follow detailed advice in the A-Z directory to remedy the issue. With a focus on growing for food and an emphasis on organic solutions, RHS Pests and Diseases will help your garden stay productive, attractive, and in the best of health.
The Greenhouse Gardener's Manual
Make the most of your greenhouse space! This comprehensive guide offers a fresh look at how gardeners can make best use of their greenhouses. It shows the reader how to grow ornamentals, edibles and fruit as well as how to propagate plants and even try basic hydroponics. The book includes chapters on the greenhouse environment, maintenance and how to control pests. Roger Marshall also looks at ways that homeowners can actually make a profit from their greenhouses.
RHS Encyclopedia of Plants and Flowers
Fifth edition of this best-selling guide to plants and flowers, updated and revised from the experts at the RHS
RHS Encyclopedia of Plants and Flowers is an expert guide to planning your dream garden, redesigned to aid navigation and make identifying plants easier than ever. Over 8,000 easy-to-find plants and thousands of photographs will give you all the guidance you need.
Each variety is photographed and the new "how to" planting guide tells you all you need to know on cultivation, pruning and care. Plus, use the special plant selector to choose plants for every possible situation and condition, from sunless walls or sandy soil to planting up containers.
---