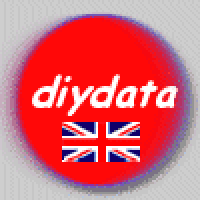 ---
---

DIYDATA BOOKSHOP
in association with amazon.co.uk
Carpentry books
While we try to be comprehensive in what we cover on the diydata.com website, we don't (yet!!) cover everything, so here are a few books of further advice for you - or for presents for others.
---
Woodwork: A Step-by-step Photographic Guide
Whether you want to build your own bed or put a bookshelf together, find out how to tackle your chosen woodwork task with confidence, using this step-by-step guide.
Learn how to master the key woodwork techniques, from simple skills to intricate carving, following clear instructions and photographs. Find out how to use hand, power and machine tools and discover the strengths of over 100 different woods. Packed with inspirational and practical craft projects that are easy-to-follow, this is the only book to give you a complete illustrated woodworking course.
Perfect for enthusiasts who want to develop their skills and ideal for the beginner, intermediate and advanced woodworkers alike.
The Complete Guide to Home Carpentry: Tools, Techniques and How-to Projects (Black & Decker Home Improvement Library)
This manual combines carpentry projects with information on tools, techniques and materials required for home projects. Photograph-driven pages demonstrate the most common saw cuts, nailing techniques, router designs and skills for using dozens of other tools. Projects range from framing a partition wall, building shelves, and installing windows and doors, to hanging cabinets, cutting countertops and installing trim. The book also covers how to remove walls for remodeling projects.
---
If you cannot find the book you want on these pages, use this search facility to locate what you want of ALL the products on Amazon.co.uk:
---
---