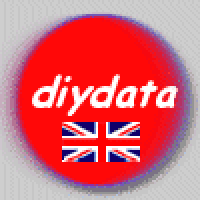 ---
---

DIYDATA BOOKSHOP
in association with amazon.co.uk
Electrics books
While we try to be comprehensive in what we cover on the diydata.com website, we don't (yet!!) cover everything, so here are a few books of further advice for you - or for presents for others.
---
Collins Complete Wiring and Lighting
A completely revised, redesigned and updated edition of the number one guide to home wiring and lighting, now in handy paperback format.
Contains comprehensive and up-to-date information on the new electrical regulations.
Whether you're changing a fuse, inserting a light fitting or rewiring an entire room, Collins Wiring and Lighting contains all the information you need to complete the job simply and safely.
Now in paperback, this new edition includes information on all the new products, techniques and electrical regulations, allowing you to make home improvements cheaply and easily.
With over 250 colour illustrations and photographs and clear, step-by-step instructions, this book will help you turn your good intentions into a job well done!
contents include:
emergency repairs
uses and plugs
complete wiring
light fittings and fixtures
identifying faults and maintenance
safety tips
tools for the job
"Reader's Digest" Wiring and Lighting Manual
This handy book provides expert guidance on working with electricity safely - from changing a plug and replacing a socket outlet to rewiring a table lamp and adding a completely new lighting circuit. It also provides full guidance on the latest Building Regulations governing electrical safety in the home, explaining exactly what the regulations mean for the DIY electrician.
A section on Understanding the System explains how your wiring and lighting systems work with clear computer-generated 3-D diagrams. At-a-glance Security Check panels highlight the tasks you should carry out to keep your wiring in top working order while Fault Diagnosis panels pinpoint the source of common problems.
The Maintenance and Repairs section gives detailed step-by-step instructions for all home wiring repair and maintenance jobs, accompanied by full-colour photographs and diagrams showing all the latest DIY techniques.
Packed with practical information on tools and techniques, this book will give you the know-how to tackle wiring and lighting jobs in the home safely and competently.
17th Edition IEE Wiring Regulations: Explained & Illustrated: Explained and Illustrated.
This popular guide focuses on common misconceptions in the application of the IET Wiring Regulations. It explains in clear language those parts of the regulations that most need simplifying, outlining the correct procedures to follow and those to avoid. Emphasis has been placed on areas where confusion and misinterpretation are common, such as earthing and bonding, circuit design and protection, and in particular the increased use of RCDs.

With the coverage carefully matched to the syllabus of the City & Guilds Certificate in the Requirements for Electrical Installations (2382-12 and 2382-15) and containing sample exam questions and answers, this book is also an ideal revision guide.
On-Site Guide (BS 7671:2008+A3:2015): Incorporating Amendment No. 3 (Electrical Regulations)
Vital changes have been made in Amendment 3 regarding safety for contractors and consumers. This essential quick-reference guide to BS 7671 has been updated to the changes in Amendment 3 to BS 7671:2008. The On-Site Guide is designed to be taken on-site for easy referencing and provides simple guidance on the application of BS 7671. All updates in Amendment 3 will be included in the On-Site Guide, which include, but are not limited to:
Consumer units (to come into effect January 2016)
Wiring in escape routes
Changes to earth fault loop impedances for all protective devices
Circuit-breakers used as functional switches
Overvoltages
EMC & compatibility
Changes to definitions throughout the Regulations Amendment 3 published on 5 January 2015 and comes into effect on 1 July 2015.
All new installations from this point must comply with Amendment 3 to BS 7671:2008.

Electric Wiring: for Domestic Installers
This book has for many years been the standard guide to the practical aspects of domestic electrical wiring. It explains how to carry out work safely and correctly in a step-by-step manner.
Essential reading for anyone obtaining a Domestic Installer Scheme Qualification which relates to Part P of the Building Regulations, this title also acts as a handy pocket guide to best practice for electricians. Although not intended as a DIY manual, non-qualified persons will also find this book useful reading.
The how-to-guide for home wiring to professional standards
Essential reading for serious DIY, electrical installation, plumbing, heating systems, TV and security alarm installation
Up to date with the latest IET Wiring Regulations.
Basic Electrical Installation Work: Level 2 City & Guilds 2330 Technical Certificate
Trevor Linsley's textbooks have helped thousands of students to gain their electrical installation qualifications. In a concise and practical way, "Basic Electrical Installation Work" supports the City & Guilds 2330 Level 2 Certificate in Electrotechnical Technology.
The fifth edition has been updated in line with the 17th Edition Wiring Regulations so that students can be sure to work to the latest regulations. The structure of the book has been overhauled and it now covers each learning outcome in a dedicated chapter. Learning features, such as key facts, definitions, safety tips and end of chapter questions with answers help students to check their understanding and revise for the exams.
The text is highly illustrated and the book is now in full colour.
Wiring Systems and Fault Finding: for Installation Electricians (17th Edition IET Wiring Regulations)
Fully up-to-date with the 17th Edition IET Wiring Regulations: Amendment 3
Covers all the principles and practice of testing and fault diagnosis in a way that is clear for students and non-electricians
Expert advice from an engineering training consultant, supported with colour diagrams and key data
This book deals with an area of practice that many students and non-electricians find particularly challenging. It explains how to interpret circuit diagrams and wiring systems, and outlines the principles of testing before explaining how to apply this knowledge to fault finding in electrical circuits.
A handy pocket guide for anybody that needs to be able to trace faults in circuits, whether in domestic, commercial or industrial settings, this book will be extremely useful to electricians, plumbers, heating engineers and intruder alarm installers.
17th Edition IEE Wiring Regulations: Inspecting, Testing & Certification
Fully up-to-date with the latest amendments to the 17th Edition of the IET Wiring Regulations
Simplifies the advice found in the Wiring Regulations, explaining how they apply to working practice for inspection, testing and certification
Expert advice from an engineering training consultant, supported with colour diagrams, examples and key data
This popular guide clarifies the requirements for inspection and testing, explaining in clear language those parts of the Wiring Regulations that most need simplifying. In addition to the descriptive and diagrammatic test methods that are required, explanations of the theory and reasoning behind test procedures are given, together with useful tables for the comparison of test results. The book also provides essential information on the completion of electrical installation certificates, with a step-by-step guide on the entries that need to be made and where to source data.

With the coverage carefully matched to the syllabus of the City & Guilds Certificates in Inspection, Testing and Certification of Electrical Installations (2394 and 2395) and Fundamental Inspection, Testing and Initial Verification (2392-10), and containing sample papers and suggested solutions, it is also an ideal revision guide.
---
If you cannot find the book you want on these pages, use this search facility to locate what you want of ALL the products on Amazon.co.uk:
---
---

Buy electrical supplies on-line at: