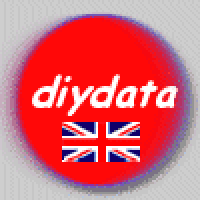 ---
---

DIYDATA BOOKSHOP
in association with amazon.co.uk
Gardening books
While we try to be comprehensive in what we cover on the diydata.com website, we don't (yet!!) cover everything, so here are a few books of further advice for you - or for presents for others.
---
RHS Pests and Diseases
Learn to identify, treat and prevent plant pests and diseases with the help of the experts at the RHS. A detailed A-Z plant listing explains common plant problems so you know what to look out for in your garden. Explore more than 300 close-up photos showing symptoms and causes of ailments, helping you to identify and treat problems fast. Includes suggestions for organic, biological and chemical controls to keep you one step ahead of pests and diseases.
Keep your plants in perfect condition all year round.
Greenhouse Gardening: Step by Step to Success
A practical guide to planning, siting, building and making best use of a greenhouse. It includes information on heat and ventilation, control of pests and diseases and a season-by-season growing guide.
RHS A-Z Encyclopedia of Garden Plants
<
Collecting contributions from 100 distinguished horticulturists, the handsome and lavishly illustrated Royal Horticultural Society A-Z Encyclopedia of Garden Plants is a truly definitive gardening reference.
With its 1,092 tiny-print pages, this may not be the book to tuck into your pocket as you weed and mulch, but what this encyclopedia lacks in portability, it certainly makes up for in scope. Hardy and tender plants, heirloom varieties and the latest hybrids--they're all accounted for here, with growing tips and background information about native habitats and ornamental features. You'll also find a fascinating section about botany, as well as information about basic gardening techniques such as mulching, staking, pruning, propagating and protecting plants for winter.
But the encyclopedia's main attraction is the individual plant entries--more than 15,000 of them, embellished with 6,000 full-colour photographs and illustrations. From the visual glossary of leaves to the map of growing regions, the Royal Horticultural Society A-Z of Garden Plants provides an unsurpassed wealth of botanical information, making it the yardstick by which all other gardening references must be measured.
---
If you cannot find the book you want on these pages, use this search facility to locate what you want of ALL the products on Amazon.co.uk:
---
---