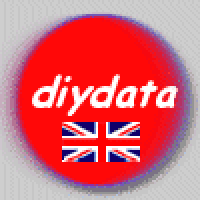 ---
---

DIYDATA BOOKSHOP
in association with amazon.co.uk
Plumbing books
While we try to be comprehensive in what we cover on the diydata.com website, we don't (yet!!) cover everything, so here are a few books of further advice for you - or for presents for others.
---
Basic Plumbing And Central Heating: Teach Yourself
This guide to the basics of plumbing and central heating is designed for complete amateurs, and written by one of the most experienced plumbing tutors in the country.
Whether you are attempting projects such as installing a new bathroom or plumbing in a new dishwasher, or just need to understand enough to do essential repairs and fixes, this is the book for you. It includes step-by-step guides to sorting out the most common plumbing problems, and comprehensive coverage of the key tasks, all based on a straightforward introduction to the layout of your house and water system. In addition, it has plenty of illustrations, a full glossary, a whole chapter on how and who to call for help, a guide to the necessary toolkit and a list of the top ten plumbing emergencies.
"Reader's Digest" Plumbing and Heating Manual
This handy book gives expert guidance on plumbing and heating - from unblocking a WC and mending a dripping tap to repairing a burst pipe and changing a central heating pump.
Packed with practical information on tools and techniques, the guide also gives sensible advice on measures you can take to prevent problems occurring in the first place.
A section on Understanding the System explains how your plumbing and central heating systems work with clear computer-generated 3-D diagrams. At-a-glance Security Check panels highlight the tasks you should carry out to keep your plumbing and heating in top working order while Fault Diagnosis panels pinpoint the source of common problems.
The Maintenance and Repairs section gives detailed step-by-step instructions for all home plumbing and central heating repair and maintenance jobs, accompanied by full-colour photographs and diagrams showing all the latest DIY techniques.
This book will give you the confidence and knowledge to tackle all plumbing jobs around the home for a fraction of the cost of a plumber's call-out fee.
Plumbing and Central Heating
Modern systems and materials mean that most domestic plumbing jobs are within the scope of do-it-yourselfers.
This guide explains the basic skills of plumbing which can be applied to any situation. Instructions for 30 projects, from mending a leaking tap, to installing a shower unit, are detailed.
Plumbing
The 4th edition of Plumbing continues to provide the definitive single volume text on plumbing, heating and gas installation work, ideal for students working towards their Diploma in plumbing or NVQ/SVQ at levels 2 and 3.
Highly illustrated and easy to read and understand, it tackles plumbing topic by topic, in double page spreads with text, full colour illustrations, and clear photographs, enabling the reader to grasp the essentials quickly and easily. This approach ensures it also provides a concise reference for the trained plumber. Special features include: concise text many clear, full colour illustrations around 140 photographs topics focussed on the needs of NVQ/SVQ levels 2 and 3 additional topics beyond levels 2 and 3 a self–assessment section a problem–solving section
This new edition has been thoroughly updated to take account of changes to the Building Regulations, including changes to the following approved documents: Part F: Ventilation; Part G: Sanitation, hot water safety and water efficiency; Part H: Drainage and waste disposal; Part L: Conservation of fuel and power and Part P: Electrical safety.
A significant new section on energy conservation & sustainability has been added, and additional related material introduced where relevant. The extensive coverage with new, full colour illustrations to enhance legibility and understanding, and the emphasis on safety in the work place ensure this remains the definitive single volume for both student and trained plumbers.
The Plumbing Encyclopaedia
This text provides succinct and well illustrated definitions of over 1,500 terms from the field of plumbing and mechanical services.
The How To DIY Guide To Advanced Plumbing
Informative guide to general DIY plumbing. Looks at how cylinders work, how and where to run pipes, different components, fitting and removal of radiators and replacing valves.
---
If you cannot find the book you want on these pages, use this search facility to locate what you want of ALL the products on Amazon.co.uk:
---
---

Buy plumbing supplies on-line at: